What is YOUR learning style?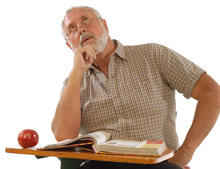 During our first meeting we'll determine your learning style: visual, auditory, or tactile/kinesthetic. Understanding your preferred way of learning helps me match my teaching style to your learning style and increases the effectiveness of your lessons.
Your lesson structure
All one-hour Thai lessons are broken down into three parts. Here's a typical breakdown of your lesson:
First 15 minutes
Go over your homework assignment from your previous lesson and discuss the answers
Recap topics discussed in the previous lesson and focus on any aspects of the lesson that were difficult for you
This review at the beginning of each lesson ensures that you will never forget what you've learned!
Next 30 minutes
Introduction of a new subject
For example, a conversation in a restaurant. You'll learn the appropriate vocabulary, and then practice the conversation, which may include grammar, pronunciation, asking questions, and expressing opinions. We'll use a lot of role playing to recreate real life situations as much as possible.
I always record the correct pronunciations for you during your lesson, so you'll be able to listen to them as many times as you want, and practice on your own.
Depending on your learning style, we'll use different teaching methods to ensure that your lesson is fun and interesting for YOU.
(Visual learners like pictures; verbal learners like to repeat a lot!)
Last 15 minutes
Review the lesson of that day and discuss any aspects of your lesson that may have been difficult
Present and explain the homework assignment for your next lesson
Evaluations by meeting and speaking with native Thais
Studying Thai in your own country, in the comfort of your own home, is very convenient, but makes it harder to practice the language in real life situations. That's why, from time to time, I'll surprise you by inviting a native Thai speaker to the lesson… someone who doesn't speak any English!
I'll be there during your 10-15 minute conversation, so I can listen and evaluate it with you afterwards.
The most important benefit of this exercise?
You can practice what you've learned in a safe and supportive environment. You'll feel as if you are already in Thailand!